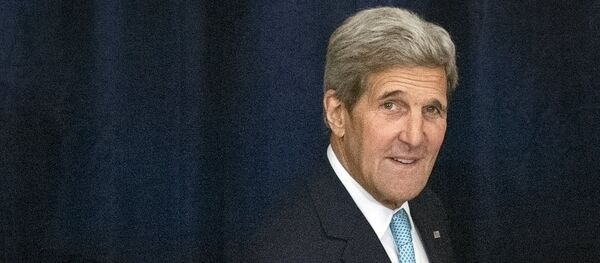 13 January 2016, 16:46 GMT
WASHINGTON (Sputnik) – US Secretary of State John Kerry will hold talks next week with Saudi leaders and top Arab Gulf diplomats, US Department of State spokesperson John Kirby said in a statement on Friday.
"Secretary Kerry will travel to Riyadh, Saudi Arabia, on January 23 to meet with senior Saudi Arabian leaders, as well as the Foreign Ministers of the Gulf Cooperation Council states to discuss bilateral and regional issues," the statement noted.
Kerry will be visiting the Arab leaders as tensions between their countries and Iran continue to mount amid fears over plunging oil prices, which at one point dropped to $29 a barrel on Friday.
After his Middle East talks, Kerry will visit Laos and Cambodia, and then hold talks with Chinese leaders in Beijing on January 27 about the North Korean nuclear problem as well as other bilateral, regional and global issues, the statement said.