NEW DELHI (Sputnik) – Muallem, who also serves as the deputy prime minister of Syria, paid an official visit to New Delhi earlier this week.
"We believe that India, with the achievement of the Indian people, deserves to be part of the solution in Syria. Now in Geneva, I tell you frankly the dialogue has to be between Syrians without foreign interference," Muallem stated, commenting on the role New Delhi could play during the upcoming conference in the Swiss city of Geneva.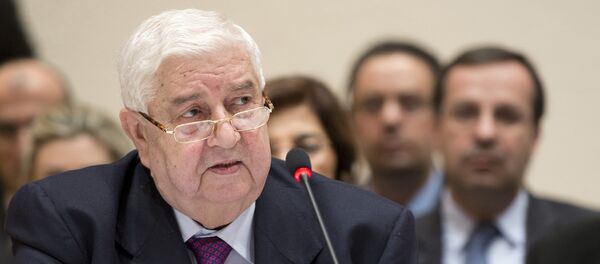 15 January 2016, 09:03 GMT
If outside meddling or pressure occurs during the UN-backed talks between Syrian authorities and opposition, the negotiations will collapse, he warned.
"So we did not expect India to play a role in Geneva but to play a role to help Syria in combating terrorism through economic aid, through economic relation and through political support," Muallem added.
Since the start of the conflict in Syria, Geneva has hosted two rounds of UN-brokered talks between representatives of the Syrian authorities and the opposition. The Geneva negotiations failed to yield any significant results.