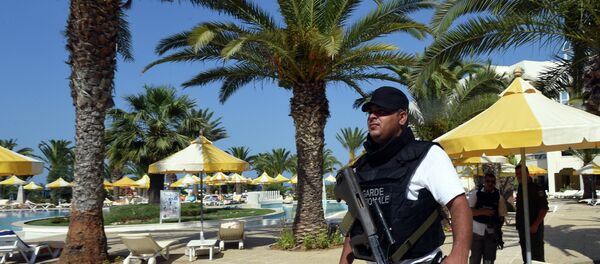 15 January 2016, 03:35 GMT
MOSCOW (Sputnik) — Tunisia has been a target for terrorists, including the notorious Daesh jihadist group.
Daesh terrorists carried out another attack in the country in August, killing 38 holidaymakers on a beach in the town of Sousse.
In November, a bomb hit a bus carrying elite presidential guards in Tunisia's capital city Tunis. Tunisian President Beji Caid Essebsi declared shortly a state of emergency saying the country was at war against terrorism.
On March 18, a group of gunmen dressed in military uniforms opened fire on tourists at the National Bardo Museum near the parliament building in Tunis, killing 22 and injuring more than 47, mostly tourists. Daesh claimed responsibility for the attack.
"The backbone of the Tunisian economy has always been tourism, but the number of tourists coming to the country significantly decreased because of the terrorist attacks that took place in the country. Economic growth in Tunisia in 2014 was 2.8 percent, in 2015 – 1 percent," Goutali said at a press conference in Moscow, dedicated to celebrating a 2011 revolution in Tunisia.