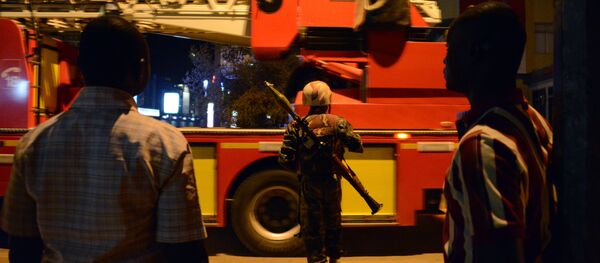 16 January 2016, 13:41 GMT
GENEVA (Sputnik) — A recent terror attack in the capital of the West African country, Ouagadougou, claimed the lives of two Swiss citizens, Switzerland's Federal Department of Foreign Affairs said Saturday in a statement.
At least 27 people were killed when some 15 al-Qaeda extremists took over 120 hostages in a hotel and a cafe frequented by westerners in Burkina Faso on Friday.
"Two Swiss are among the dead. The Federal Department of Foreign Affairs condemns the attacks and expresses its deep condolences to the families of the victims," the statement reads.
According to the Swiss department, the two victims were at a Cappuccino cafe in Ouagadougou during the assault.
Al-Qaeda in the Islamic Maghreb claimed responsibility for the attack, the same group responsible for the November 2015 deadly attack on an upscale hotel in neighboring Mali.