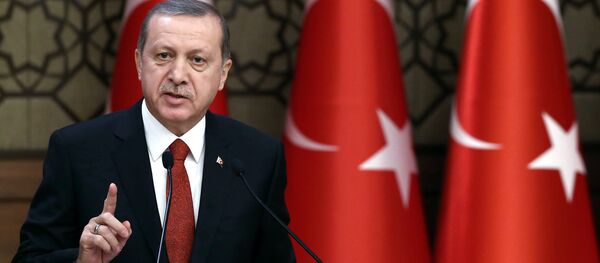 16 January 2016, 14:55 GMT
Turkey's Prime Minister Ahmet Davutoglu claimed that the January 12 terrorist attack in Istanbul was masterminded by some 'secret actors' who used Daesh as a 'subcontractor',
according
to Daily Sabah.
The prime minister also accused the Syrian government of cooperating with Daesh militants, and argued that "certain foreign powers have an obstructing stance against Turkey's airstrikes on Daesh targets," the newspaper adds.
However, it becomes more and more apparent that the actions and policies of President Erdogan are largely to blame for the dire state of affairs in Turkey, according to the Austrian daily Die Presse.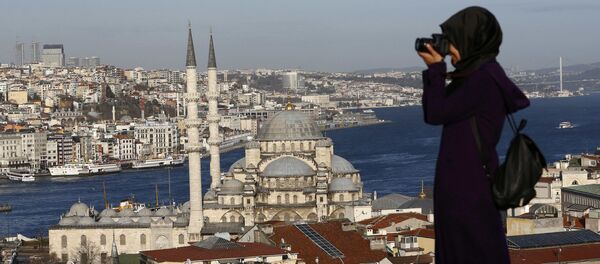 16 January 2016, 12:11 GMT
Only a year ago the peace process with the Kurds was one of the cornerstones of the Turkish president's agenda, the newspaper points out. However, as it became apparent that Erdogan's party was losing the support of Turkish nationalists who were against any sort of peaceful negotiations with the Kurds, the president quickly shifted his stance and launched a violent
crackdown
against the Kurdistan Workers' Party (PKK). As a result of these actions, the southeastern regions of the country now became the battlefield for a full scale war, Die Presse remarks.
The newspaper also suggests that the recent victories won by Kurdish forces against Daesh in Syria also vexed Erdogan considerably, prompting him to provide support to Bashar Assad's enemies regardless of how questionable their background may be. Yet despite these efforts the Syrian leader still remains in power, much to the Turkish president's displeasure.
Furthermore, Erdogan's actions drastically worsened Turkey's relations with other influential Middle Eastern powers, such as Iraq, Iran, Egypt and Israel. In addition, the crisis sparked by downing a Russian Su-24 attack aircraft in Syria by Turkish fighter also threatens to undermine Turkey's influence in the region, the newspaper adds.