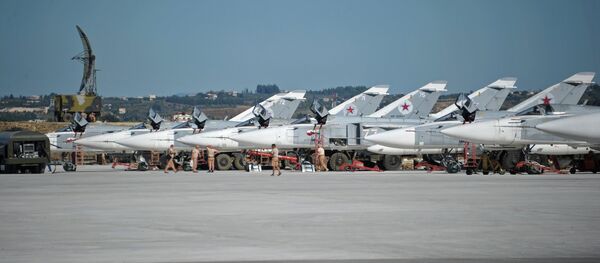 16 January 2016, 14:15 GMT
MOSCOW (Sputnik)
–
Qatar hopes that Russia will play a large role in solving the Syrian crisis, Qatari Emir Tamim Hamad al-Thani said Monday.
"We give much hope for our friends in Russia so that they play a large role in solving this catastrophe with the Syrian people, with this tragedy, as well as reaching a political settlement," al-Thani said during a meeting with the speaker of Russia's lower house of parliament, Sergei Naryshkin, in Moscow.
The leader of the tiny Gulf Arab state praised a "very strong" relationship that the monarchy had with Russia, adding Doha hopes to build on them. He said Russia played a major role in the world, including in the Middle East.
Syria has been locked in an armed conflict that killed over 250,000 and displaced millions. Since 2011, forces loyal to Syrian President Bashar Assad have been fighting against opposition factions and extremist groups such as Daesh, which is prohibited by many countries, including Russia and the United States.
Since last September, Russian warplanes have been involved in an air operation to roll back IS insurgency in the country. Last week, Moscow announced it had launched a humanitarian operation in Syria to help people trapped in Daesh-besieged towns.