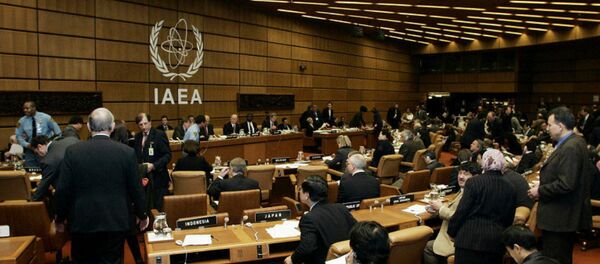 19 January 2016, 08:50 GMT
VIENNA (Sputnik)
–
On Saturday, International Atomic Energy Agency (IAEA) Director General Yukiya Amano sent a report confirming that Iran has completed the necessary preparatory steps to start the implementation of the JCPOA to the nations-participants of the nuclear talks.
According to the report, Iran has filled the Arak nuclear reactor's core part with concrete to decommission it, only 5,060 centrifuges have been left at Natanz, keeping its level of uranium enrichment at up to 3.67 percent, the plant in Fordow has been rebuilt from an uranium enrichment into an isotope production facility. Besides, Iran reduced its stockpile of low-enriched uranium by 98 percent to 300 kilograms (660 pounds).
Iran and six world powers — the United States, Russia, China, France, Britain, and Germany — signed a nuclear deal last July. It guaranteed the peaceful nature of Iran's nuclear program in exchange for sanctions relief.
The European Union, the United Nations and partially the United States lifted Saturday their sanctions against the Islamic Republic after the IAEA verified Tehran's compliance with a nuclear agreement.