Hollywood actress Pamela Anderson created a stir in France's parliament on Tuesday, during a visit to make a statement condemning the production of foie gras, the famed French goose liver delicacy which involves the force-feeding of birds.
Force-feeding ducks and geese by stuffing metal tubes into their mouths is banned in several countries, but remains legal in France despite some European Union regulations impacting the practice. Anderson's visit led to a scuffle among journalists, who were crammed into a small space; this led to a fight between a photographer and a cameraman.
"I as a Canadian, have come to France to voice my opposition to an industry that is equally as cruel as the baby seal massacre – the cruel treatment and slaughter of ducks and geese for another non-essential luxury product – fois gras!" Anderson said.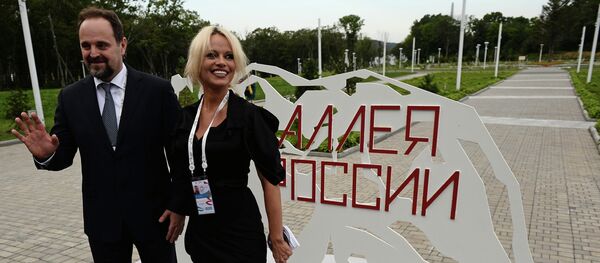 3 September 2015, 10:13 GMT
"As a Canadian, I am ashamed by the brutal clubbing of baby seals and thus I have empathy for many of the French citizens who also experience both shame and sadness at the misery suffered by these very sociable birds," she added.
Anderson noted that she was inspired by French actress Brigitte Bardot in her activism, who sent a statement from her home regarding the practice.
"Foie gras is not a symbol of festivity, but a symbol of death, and force-feeding is an absolutely outrageous barbarity," Bardot wrote.
An official from a foie gras producers association, Marie-Pierre Pe, criticized Anderson's appearance at the French parliament.
"We understand that some people don't want to eat foie gras but they should not keep foie gras lovers from eating it," Pe said, according to Reuters.
France's production of foie gras came to a near-halt in 2016, because of the spread of bird flu in the country's biggest foie gras-producing region.