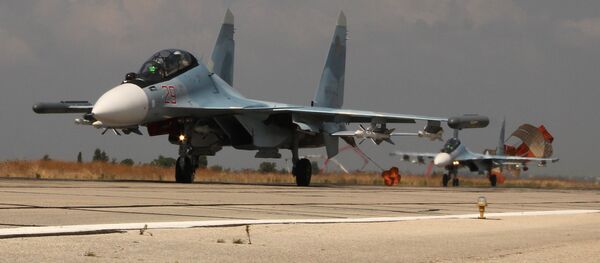 31 December 2015, 06:37 GMT
MOSCOW (Sputnik)
–
Russia's only aircraft carrier, the Admiral Kuznetsov, will not be used in operations in the Eastern Mediterranean against Daesh terrorists because it is currently under repair in the Murmansk shipyards until the end of 2017, a highly-ranked official in the Russian military industrial complex said Wednesday.
"The Admiral Kuznetsov aircraft carrier is under repair at the 35th shipbuilding plant in Murmansk. The plant workers have the task of repairing the ship by the end of 2017 and there is no reason to accelerate or halt this process," the official told RIA Novosti.
Earlier, two Russian lawmakers from the Communist party, Valery Rashkin and Sergei Obukhov, sent a request to Russian Defense Minister Sergei Shoigu to deploy the warship to the Eastern Mediterranean to participate in operations in Syria against the Islamic State, which is prohibited in numerous countries including the United States and Russia.
On October 14, 2015, Russian Northern Fleet spokesman Vadim Serga said the Admiral Kuznetsov had no long-term missions or military campaigns to look for any time soon.
The Admiral Kuznetsov was constructed at the Mykolaiv South Shipyard, the sole manufacturer of Soviet aircraft carriers, and launched in 1985. It became fully operational in 1995.