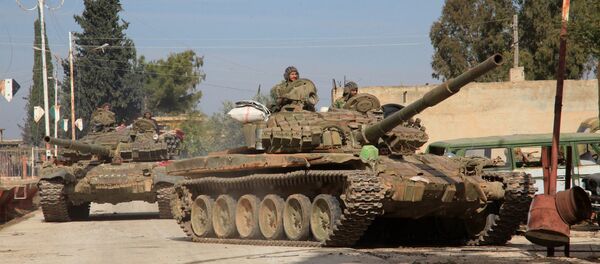 19 January 2016, 05:53 GMT
Aerial support from the Russian Air Force for Syrian Arab Army troops defending eastern Syria from Daesh terrorist attacks is proving an effective tactic in an area where the US-led coalition was expected to lead efforts to eliminate the terrorist group, German Economic News (DWN) reported on Wednesday.
"It was expected that the US-led alliance will lead the fight against IS (Daesh) in the East," DWN wrote.
"In order to capture the command center of the 137th Artillery Brigade, IS (Daesh) is increasingly relying on suicide bombings. At the weekend, IS (Daesh) began its biggest offensive on Deir-ez-Zor since December 2014."
​'Russia also comes to help Syria fight ISIS (Daesh) in the East,' reported DWN.
On Tuesday Al-Masdar News reported that Daesh had launched its fifth assault on the headquarters of the Syrian Arab Army's 137th Artillery Brigade close to Deir-ez-Zor military airport.
"This attempted advance by the terrorist group was immediately met by fierce resistance from the Syrian Arab Army soldiers protecting this strategic base near the Deir Ezzor Military Airport," reported Al-Masdar News.
"Yesterday, ISIS declared control over the Missile Battalion Base at the southern perimeter of the Deir Ezzor Military Airport; however, this morning, several reports from the soldiers at the airbase revealed that the terrorist group was unable to maintain their ground as a result of the powerful Russian and Syrian airstrikes around the villages of Jafra and Al-Muri'iyah."
"Clashes are still ongoing between the Syrian Arab Army's 104th Airborne Brigade and ISIS near the Radio Broadcast Tower in the Al-Baghayliyah District."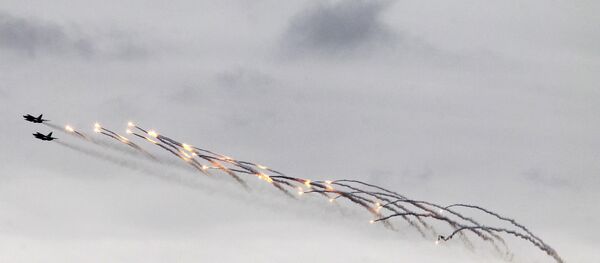 19 January 2016, 13:10 GMT
On Tuesday Russian Defense Ministry spokesman
Igor Konashenkov announced
that the Russian air force had carried out 157 sorties across Syria over the previous four days, bombing 579 terrorist objects in Aleppo, Deir-ez-Zor, Homs, Hama, Raqqa and Latakia. 
"Near al-Baghiliyah (Deir ez-Zor province), where the ISIS militants performed a massive execution of about 300 civilians in order to frighten citizens a day ago, a Russian Su-34 bomber made a strike on terrorists' strong points. Direct hits caused elimination of 3 heavy vehicles with ZU-23 systems, 2 off-roaders with heavy weapons and more than 60 terrorists," the Defense Ministry reported. 
​The airstrikes were in support of Syrian Arab Army ground troops, who were carrying out offensives on Sunday that liberated the settlement from Daesh after the massacre.
"The army headed to this region to save the population. There were clashes with ISIL (Daesh) militants, they suffered significant casualties, the rest managed to flee to the neighboring areas controlled by ISIL (Daesh)," Mohammad Qaddur Ajnyyja, governor of Deir-ez-Zor, told Sputnik.