WASHINGTON (Sputnik) — Nine percent of respondents said that Trump's best policy would be immigration and border control, five percent said he could improve the US economy, followed by three percent of respondent who said the mogul could best control the US budget and fight terrorism, according to the survey.
"Asked to name the best or most positive thing about a possible Donald Trump presidency if he were to be elected in 2016, Americans most commonly volunteer his business background, policies on immigration and honesty — that he says what he feels," the Gallup survey said.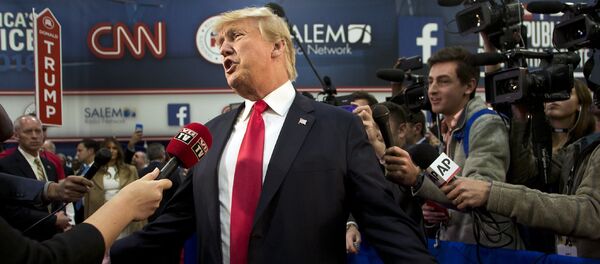 20 January 2016, 15:56 GMT
Meanwhile, the respondents said Trump would be worst at dealing with foreign policy issues, and that some of his most negative qualities were his impulsiveness, arrogance, lack of experience and being racist toward minorities.
The results of the poll come as the US real estate tycoon has been leading in the latest public opinion polls ahead of the upcoming US primary elections.