CHISINAU (Sputnik) – On Wednesday, hundreds protesters gathered near the parliament to protest against Moldovan President Nicolae Timofti's decision to nominate Pavel Filip, Minister of Informational Technologies and Communications and member of the ruling Democratic Party, for the post of Moldovan prime minister.
Moldovan police used tear gas against activists after protesters broke into the parliament building.
Later, Timofti signed a decree appointing Filip as the new prime minister with 57 lawmakers having supported his candidature.
"This is an unlawful government and an unlawful parliamentary majority. On Thursday morning at 10:00 [08:00 GMT] we will gather for protests. There will be 100,000 of us – we will make them break," leader of the Socialist Party Igod Dodon told RIA Novosti.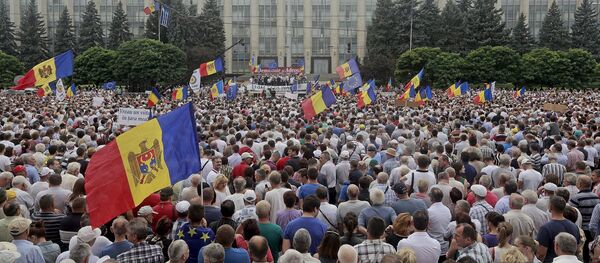 20 January 2016, 20:22 GMT
The Wednesday demonstrations were organized by the Socialist Party of Moldova, Our Party and the Civic Platform DA, which were all against the proposal to nominate Filip and had threatened to organize mass protests against the decision.
The previous cabinet, headed by Liberal Democrat Valeriu Strelet, stepped down under pressure from opposition parties on October 29. Moldova entered into 2016 with no acting government against the backdrop of a deep political crisis.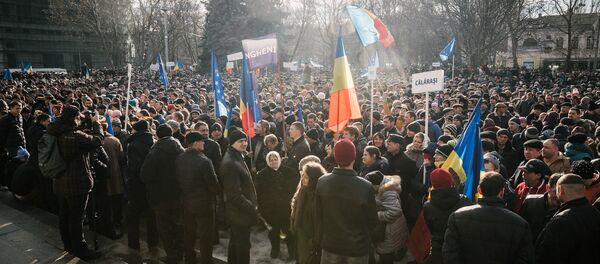 20 January 2016, 17:35 GMT
Since early September 2015, major anti-government protests have gripped the Moldovan capital of Chisinau. Activists have been demanding the resignation of the Moldovan president, prime minister and the chief prosecutor, while also calling for early parliamentary elections and prompt action to tackle corruption.
The protests in Moldova were sparked by the disappearance of more than $1 billion, or the equivalent of 15 percent of the country's total gross domestic product, from three Moldovan banks last year. The incident negatively affected the country's banking system and led to the depreciation of the national currency, the leu.