MOSCOW (Sputnik) — Corbyn, opposing nuclear weapons, suggested the plan last week as a compromise between his position and need to protect jobs of the shipbuilding industry workers.
"If you are going to have a deterrent, you have to be prepared to use it," Fallon said as quoted by The Guardian.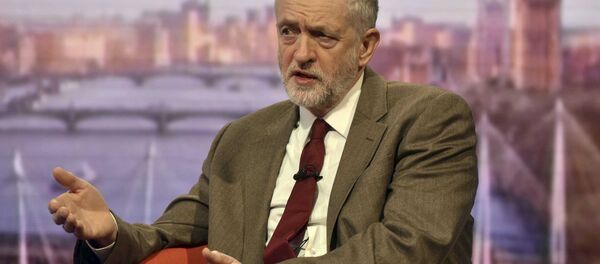 18 January 2016, 13:13 GMT
He compared the plan to producing "imitation rifles" and noted that if Labour leadership maintained this position, they would represent a threat to the UK security.
The UK parliament is expected to vote on a successor to the Trident program with an estimated cost of some 31 billion British pounds (almost $44 billion at the current exchange rate) later in the year.
The Trident system is deployed at the UK Royal Navy's Faslane naval base in Scotland, the United Kingdom's only facility capable of hosting the four Vanguard-class ballistic missile-equipped submarines.