ANKARA (Sputnik) — The president appealed to the court to make CHP leader pay 200,000 Turkish liras ($66,000 at current exchange rates) in compensation for non-pecuniary damages over Kilicdaroglu's statements insulting Erdogan made in February 2014.
"Politics should not be turned into such environment. They are setting a bad example for our children. But the rulings of the European Court of Human Rights are obvious," Judge Leyla Kundakci was quoted as saying by the Hurriyet newspaper.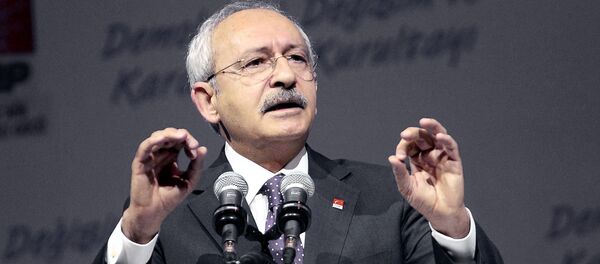 18 January 2016, 14:50 GMT
On Monday, the prosecutor's office in Ankara opened an investigation against the opposition leader on new charges of insulting the country's president.
Erdogan has filed two lawsuits against Kilicdaroglu, demanding compensation for moral damages amounting to 200,000 Turkish liras over the fact that the oppositioner, speaking at the congress of the party on Saturday, called the president, "a sham dictator."