Moreover, the Syrian army is preparing military operations in three more directions, Chief of Russia's General Staff Gen. Valery Gerasimov told Rossiya-24 channel.
"Currently, strategic initiative in almost all directions is in the hands of the [Syrian] government forces. They are actively fighting, so sooner or later Daesh's resistance would be broken."
While the Syrian army had been on defensive since the start of the civil war in 2011, the government forces began to advance only two weeks after the launch of the Russian military operation, Gerasimov said.
"At the moment, out of 15 fronts where fighting is taking place in Syria, offensives are carried out in 10, Gerasimov said. "The Syrian army in general has become different over these months — a desire to advance and self-confidence has appeared."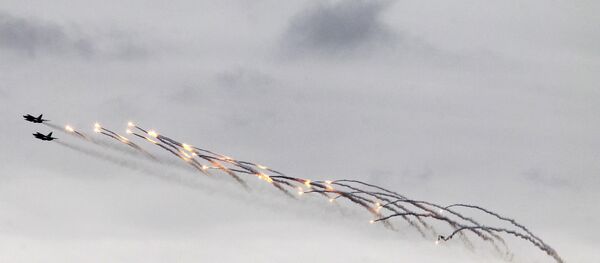 19 January 2016, 13:10 GMT
Since the start of the Russian aerial campaign in Syria, Russian combat aircraft have conducted over 6,000 sorties hitting terrorist targets, Russian Chief of General Staff said.
According to Gerasimov, Daesh militants started to massively desert, as well as to flee to other countries.
Terrorists are trained by professionals, including former Iraqi army soldiers, the Russian General Staff said.
"Daesh militants are not groups presented as some kind of bearded men in civilian clothes, whose actions are unorganized. This is false. They are, in fact, organized groups, they have all received relevant training… Officers who served in the Iraqi army are among them [Daesh terrorists], they are well-trained," Russian Chief of General Staff Gen. Valery Gerasimov said.
Russia has been carrying out an aerial campaign against terrorist groups in Syria since late September at the request of Syrian President Bashar Assad.