MOSCOW (Sputnik) – According to the El Mundo newspaper, King Felipe VI met Rajoy earlier in the day and offered him to run for the post of the prime minister, but Rajoy declined.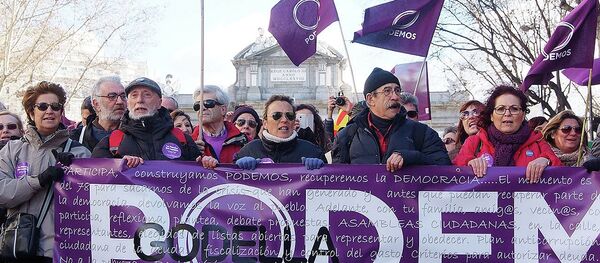 22 January 2016, 13:36 GMT
On December 20, Spain held a general election that ended the established two-party system, in place in the country for more than 30 years. PP won 123 seats in the lower house of parliament, 64 less that in the previous election. At least 176 seats are required for a parliamentary majority, necessary to form a government.
"During the last consultation, held with Mr Mariano Rajoy Brey, His Majesty the King offered to him to be a candidate for the Presidency of the Government. Mr Mariano Rajoy Brey thanked His Majesty the King for his offer, which he declined," the statement read.
The King then informed Patxi Lopez, the head of the lower house of the Spanish parliament, of Rajoy's decision. Felipe VI will hold a new round of consultations with members of political parties on formation of the Spanish government.
Rajoy has been the prime minister of Spain since 2011.