DAVOS (Sputnik), Daria Chernyshova – The world powers are trying to manage the Syrian crisis for their own benefit, instead of resolving it, the former head of the Arab League told Sputnik Friday.
"There is a development, which I believe is the same old game as managing the crisis but not necessarily solving it. That is how I see what the big powers are doing," Amr Moussa said about the possibility of resolving the Syrian crisis.
Moussa noted that in the Syria conflict the "same powers" appeared to him to be competing for influence, and that the people of the country were not benefiting in any way.
"We don't see any plan, we don't see any solid arrangement for solving the problem, just the same game," Moussa said.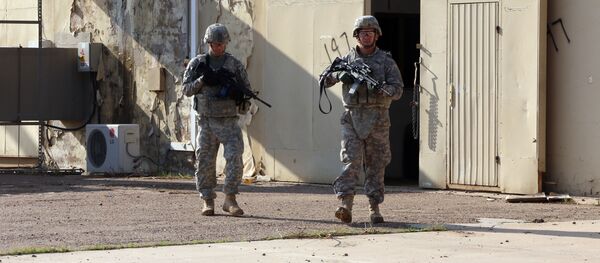 22 January 2016, 12:54 GMT
Syria has been in a state of civil war since 2011, with government forces fighting anti-government rebels as well as extremist and terrorist groups, including Daesh (Islamic State). Over four million Syrians have fled to neighboring countries, including Turkey, Lebanon, Jordan, Iraq and Egypt, while at least a million have traveled to Europe to seek refuge.
In December, the UN Security Council unanimously adopted a resolution outlining a peace process for Syria. The resolution supports a ceasefire in Syria and called on all parties to the Syrian conflict to allow humanitarian agencies to deliver aid to those in need. The resolution also calls for talks to be held between the country's leadership and the opposition.
Beating Daesh With Airstrikes Impossible, Root Causes Must Be Addressed
Airstrikes against Daesh  will not defeat it but could create more terrorists, instead the root causes of the group's emergence need to be addressed, the former head of the Arab League told Sputnik.
"ISIS cannot be fought and defeated that way, just [through] airstrikes. Even if it is defeated, what is defeated is ISIS1, there would be [an] ISIS 2," Amr Moussa said.
Moussa said that people were unhappy about the practices of their governments, as well as foreign interventions.
"As long as we don't deal with the reasons why people were angry, why people were suffering from discrimination, bad governance and religious intolerance and so on, all those practices continue and all those practices will produce the same frustrated people, angry people and so on," Moussa explained.
Daesh is a terrorist group that has been fighting the Syrian government since 2012, later expanding to the neighboring state of Iraq and proclaiming caliphate in the territories under its control.
Since 2014, a US-led international coalition has been conducting airstrikes against Daesh positions in both countries without the approval of the Syrian government. Russia, having outlawed the group, launched its own campaign against it in Syria in 2015.