King of Bahrain Hamad bin Isa Al Khalifa has expressed interest in Russia's multipurpose fighter of the fifth generation 'Sukhoi' T-50 (PAK FA). The start of serial production of an export version is scheduled for 2020.
The king also showed interest in Russia's helicopters, such as the Ka-226T, Ansat, Ka-32A11BC and Mi-171A2, according to a source in the Russian delegation.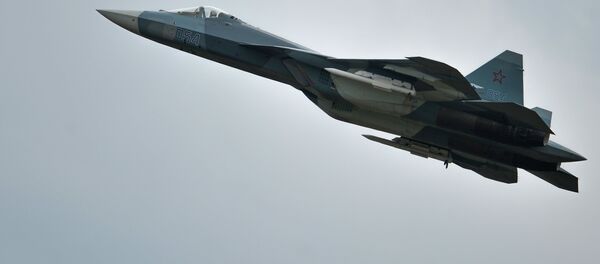 30 December 2015, 14:32 GMT
The T-50 is a prototype aircraft designed by Sukhoi for Russia's Prospective Airborne Complex of Frontline Aviation (PAK FA) program.
The T-50 fighter was first seen in January 2010 when it was presented at the air show MAKS-2011. The fighter jet is expected to join the Air Force of the Russian Federation in 2016.
Mass production of Russia's Sukhoi T-50 fifth-generation fighter jets will begin in 2017, Aerospace Forces Commander Col.Gen. Viktor Bondarev said Saturday.
"I am 100 percent sure that we will finish joint state tests this year. This aircraft should be batch produced the following year," Bondarev told reporters.
The commander further added that he recently visited Komsomolsk-on-Amur to see the company's work. "Today, the 11th and last of the T-50 series is 60-70 percent ready."
The T-50, equipped with advanced avionics and all-digital flight systems, will become the first operational stealth aircraft of the Russian Aerospace Forces.
The Bahrain International Airshow-2016 took place in Bahrain on January 21-23. Delegations of Russia's United Aircraft Corporation and Federal Service for Military-Technical Cooperation also took part in the airshow.
© Sputnik
PAK FA (Advanced Tactical Air Sistem) T-50

PAK FA (Advanced Tactical Air Sistem) T-50