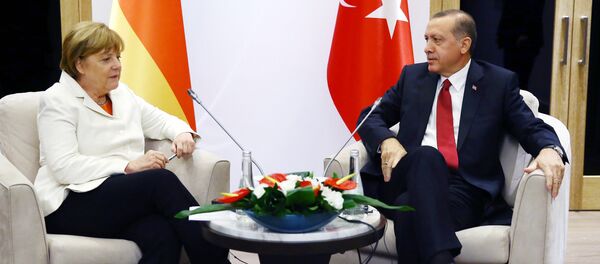 22 January 2016, 10:33 GMT
From the perspective of the Turkish government, the EU needs to spend more money to tackle the current migration crisis.
The three billion euros promised by the European Union is not enough to resolve the situation.
"We are not begging for money from the EU. But if there is a serious commitment to share this burden, we have to sit down and talk about all details of the crisis," Turkish Prime Minister Ahmet Davutoglu stressed in an interview with the German Press Agency.
Turkey is a major transit country for refugees fleeing from Syria to the EU. Unable to tackle the current refugee crisis alone, the EU has promised Turkey money in exchange for keeping refugees within its borders.
According to DWN, Ankara is taking advantage of Germany's vulnerability and trying to use the situation for its own interests.
"Nobody can expect Turkey to carry the entire burden alone," Davutoglu said, adding that his country had already spent almost nine billion euros for refugees.
In exchange for its assistance, Turkey awaits certain benefits from the EU, the most desired of which — is future membership in the Union. Earlier German Chancellor Angela Merkel said that the country has still a long way ahead to become an EU member, but Ankara seems not to notice Merkel's restrained position.
"Over the last three months, there has been very positive momentum in EU-Turkey relations," Davutoglu said. "And I'm sure, at the end of all this improvement Turkey will one day become a member of the European Union, the politician stressed."