KIEV (Sputnik) – Ukrainian lawmakers approved amendments on decentralization in late August 2015.
Ukraine's Constitution requires changes in the founding document to be adopted in two stages. The amendment first needs to be backed by 226 votes in its first reading, then by 300 votes in its second reading during the next parliamentary session.
"We are by no means going to withdraw or postpone a vote [on constitutional amendments on decentralization]," Poroshenko said at an Association of Ukrainian Cities conference, setting the first half of 2016 as the timeframe of the vote.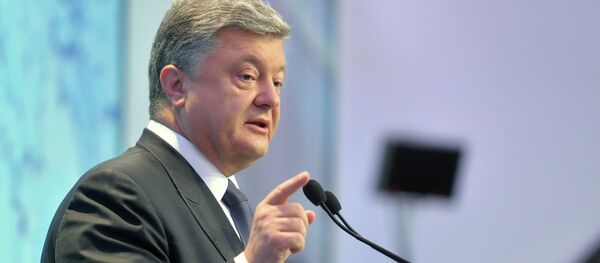 12 December 2015, 17:44 GMT
The Ukrainian legislature's next session begins on February 2 and lasts into the summer.
Poroshenko expressed confidence the decentralization clause, one of the requirements of the Minsk deal, has the needed 300 votes.
He added that the second reading of the constitutional amendment on decentralization should take place against the backdrop of "apparent and decisive progress" in the sides observing a ceasefire, releasing hostages, allowing European observers and holding local elections.