According to the refugees, this is not a single case as an unknown number of Islamists managed to enter Europe with the inflow of asylum seekers.
"I was very scared that this terrorist is in a democratic state like Germany just living here," a man told RT, saying that he saw the Islamist earlier in Syria.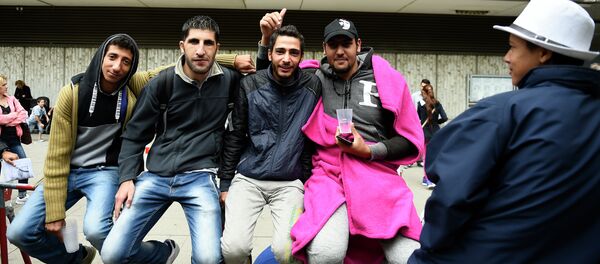 27 August 2015, 15:35 GMT
The man went to police and told them all he knew about the suspect. He said the police took him seriously and started an investigation, but have not brought any criminal charges as the suspect has not committed any crimes in Germany.
"They have to wait until this person does something criminal here," Charlie Kanoun, the head of the Assyrian Culture Association, said in an interview with RT.
Earlier, German Interior Minister Thomas de Maizière stated the German government possesses information about terrorists from the Middle East entering Germany with the inflow of refugees.
"There was and there is evidence of intelligence services from abroad that terrorists mingle with the refugees," the politician told German media in October. "We take all this seriously and carry out investigations."
The minister argued that Germany is "the focus of international terrorism". Due to the efficiency of the security services and 'certain luck', there have not been major attacks in Germany so far, but, the politician warned, no one can rule out such possibility in the future.