UNITED NATIONS (Sputnik) – Diplomats from the UN Security Council (UNSC) met with top government officials in Burundi's capital Bujumbura on Friday in a bid to influence the situation in the country and end months of political tensions.
"The delegation is headed to Addis to meet with the Peace and Security Council of the African Union tomorrow. Council members met with a range of stakeholders during their visit to Burundi, including the President, First Vice President, Foreign Minister and representatives from political parties, the media, and civil society organizations. The Council also met with religious leaders," the United Nations said in a Friday statement.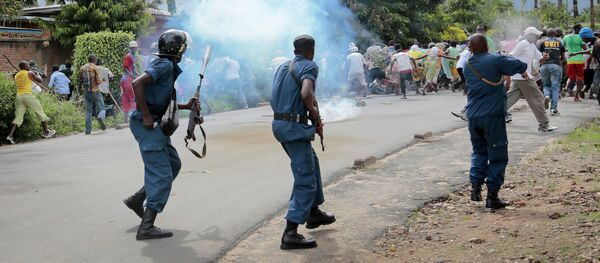 15 January 2016, 15:07 GMT
The UNSC delegation visit came after a recent UN High Commissioner for Human Rights (OHCHR) report that pointed to "alarming" new trends emerging in Burundi after the December attacks on state military facilities, including sexual violence by security forces and a sharp increase in enforced disappearances and torture cases.
Since late April, Burundi has been undergoing a political crisis as current President Pierre Nkurunziza announced his bid for a third term in office, despite being constitutionally bound to step down after two terms. His third-term election was followed by an attempted coup in May 2015.