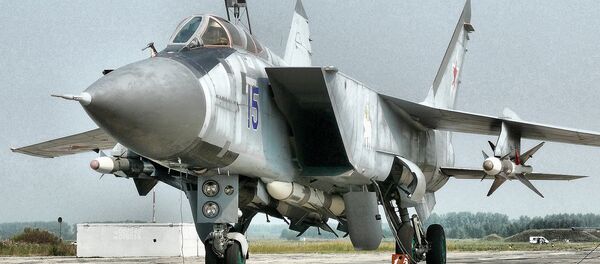 1 January 2016, 09:49 GMT
There is not very much known about the MiG-41 because everything about this plane, just like with all top modern military projects, remains classified.
All we know is that the Mikoyan bureau has been working on the design of a long-range interceptor, based on their MiG-31, since 2013 as part of a plan to replace the ageing fleet of MiG-31 fighter jets whose active service life expires in 2028.
Even though the MiG-31 is the fastest military aircraft around, it will eventually have to make way for newer and more advanced types of aircraft.
Like the MiG-41, which will be years and years ahead of its predecessors and able to intercept even the hypersonic drones now being developed in the United States no existing missiles, except Russia's S-500 will theoretically be able to shoot down.
"The MiG-41 will embody all the advantages of the MiG-31 fighter-interceptor," Alexander Tarnayev, a member of the State Duma's Defense Committee, said.
This will require numerous testing platforms, which may be why hundreds of MiG-31s will be overhauled and put into service with the Russian Air Force.
The main features of the MiG-41 are not yet known, but one thing is clear: a plane flying faster than missiles (the MiG-41 is designed to fly at Mach 4.0 and even Mach 4.3) is a convincing deterrent against any aggression.