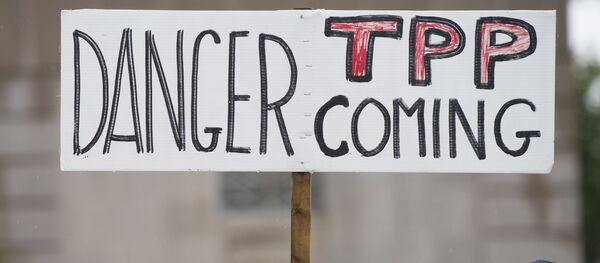 22 January 2016, 17:44 GMT
WASHINGTON (Sputnik)
–
Canada will sign the Trans-Pacific Partnership (TPP) free trade agreement during a meeting in New Zealand on February 4, Canada's International Trade Minister Chrystia Freeland said in an open letter on Monday.
"Signing does not equal ratifying… Signing is simply a technical step in the process, allowing the TPP text to be tabled in Parliament for consideration and debate before any final decision is made," Freeland noted.
On October 5, twelve countries of the Pacific Rim region reached an agreement on the wording and subject matter of the TPP, intended to deregulate trade among the signatories, which make up 40 percent of the world economy. The details of the trade deal, negotiated in unusual secrecy, were revealed to the public after almost seven years of negotiations.
The parties to the TPP agreement are the United States, Australia, Brunei, Canada, Chile, Japan, Malaysia, Mexico, New Zealand, Peru, Singapore and Vietnam.
Freeland pointed out that many people in Canada still have not made up their minds about the controversial free trade agreement.
"As Parliament returns this week, I will work with my colleagues from all parties to conduct a full and open debate in Parliament, a commitment we made in October's election," she added.
In November 2015, the Canadian advocacy group Council of Canadians requested that Prime Minister Justin Trudeau consult with the general public about ratifying the TPP free trade agreement or it would be illegitimate. The advocacy group emphasized that Canada should first carry out a review of the trade agreement's environmental, human rights and economic impact before engaging in a debate whether to ratify it.