The video, released Monday on the Defense Ministry's official YouTube channel, appeared on the heels of a General Staff briefing earlier in the day.
At the briefing, ​Lt. Gen. Sergei Rudskoy, the Chief of the Main Operational Directorate of the General Staff, told reporters that between "January 22 to January 24, the aircraft from the air group deployed in Syria carried out 169 combat sorties hitting a total of 484 terrorist targets."
"In order to provide support to the full-scale offensive of the Syrian Arab Army and patriotic opposition forces, on January 22 the Russian Aerospace Forces began commencing massed airstrikes against terrorist assets in Syria. About 70-100 sorties are being conducted every day," he added.
For their part, the Tu-22M3 Backfire strategic bombers featured in the video carried out a total of 18 combat sorties against terrorist targets in the vicinity of Deir ez-Zor in eastern Syria over the past three days.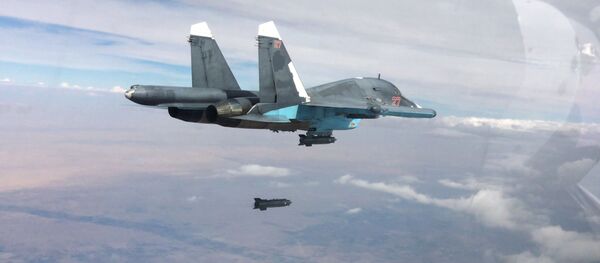 19 January 2016, 17:32 GMT
Rudskoy explained that, having lost the initiative in western Syria, Daesh has apparently decided to focus its efforts on capturing Deir ez-Zor, a city under siege by the terrorists.
Earlier Monday, the Syrian army reported that scores of Daesh militants had been killed, and many more wounded over the weekend after the Syrian Army and the National Defense Forces (NDF) foiled a spate of attacks aimed at seizing hilltops overlooking a riverside area of the strategic town of Baqaliyeh, in Deir ez-Zor province.