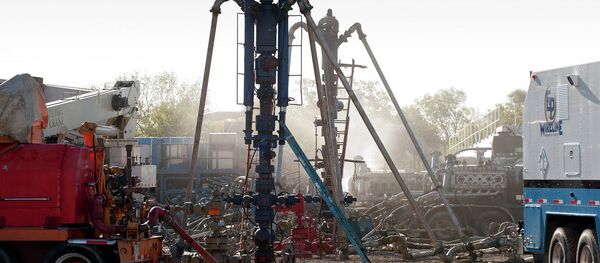 WASHINGTON (Sputnik)
–
Increases in renewable energy and greater efficiency will cut carbon emissions in half during the next quarter century, despite a 25 percent increase in energy demand, ExxonMobil said in its "Outlook for Energy" report released on Monday.
"ExxonMobil's analysis and those of independent agencies confirms our long-standing view that all viable energy sources will be needed to meet increasing demand," ExxonMobil Chairman and CEO Rex Tillerson, according to a press release accompanying the report.
The report projects that global energy-related carbon dioxide emissions will peak around 2030 and then begin to decline, with carbon output dropping by 50 percent because of a gradual transition to less carbon-intensive energy types and improved efficiency.
The energy outlook predicts that by 2040, natural gas will meet about 40 percent of the rise in energy demand, while nuclear and renewable energy sources will cover another 40 percent of the increase.
In addition, the ExxonMobile report anticipates North America becoming a net exporter of oil by 2020, after many decades as an oil importer.
In December 2015, nearly 200 countries reached a climate change accord in Paris, France and agreed to curb emissions beyond 2020 as well as transition toward a clean energy world economy. The agreement commits countries to hold global average temperatures to well below 2 degrees Celsius (35.6 Fahrenheit) above pre-industrial levels and urges them to pursue efforts to limit global warming to 1.5 degrees Celsius.