Senator Sanders, a self-described "democratic socialist" who many pundits cast aside, is surging in Democratic polls ahead of next week's Iowa caucus. Trump, a real estate billionaire and reality TV personality who has never been elected to office, has consistently polled in the lead with Republican voters.
Mara Verheyden-Hilliard, a civil rights attorney, constitutional law expert and political analyst, said Americans are "not happy with the direction of the country and their current lives" and "want something different."
"It's very obvious that the people of the United States are making it absolutely clear that the regular offerings that they get every four years from the Republicans and the Democrats do not sit with them," she said in an interview with Radio Sputnik's "Loud & Clear."
Sanders has promised to address income inequality, expand social programs and make college tuition free. Some experts, including leaders within the Democratic Party, consider Sanders' platform to be radically left.
​Jack Smith, editor of the Hudson Valley Activist Newsletter, said Sanders' views, when considered in historical context, fall in line with the Democratic Party.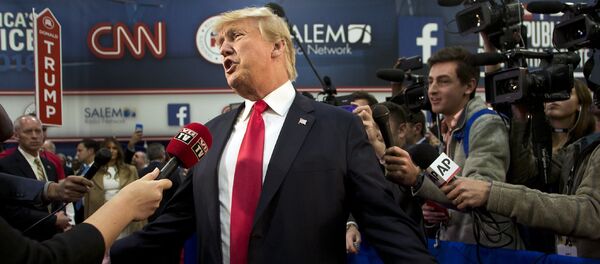 20 January 2016, 15:56 GMT
"I think [Sanders] is in the Democratic Party tradition, if you see that tradition before Bill Clinton changed it all, and Obama continued to the point where the Democratic Party is now a center-right party," Smith told  "Loud & Clear."
He called Sanders an "active liberal" whose views are no further left than those of President Franklin D. Roosevelt. Smith said President Lyndon B. Johnson advanced social programs more than a President Sanders would be able to.
Trump has maintained a lead among GOP candidates despite the Republican Party's attempts to discredit him as a viable conservative candidate. A political opportunist, Trump has bolstered support by appealing to white working-class Americans.
Activist and author Eugene Puryear said Trump acts like a "right-wing boogeyman," preying on voter fears of illegal immigration and its impact on the economy, as well as worries over an influx of Muslim refugees.