MOSCOW (Sputnik) — Joseph Blatter's contribution to football development is hard to underestimate, Sheikh Salman Bin Ebrahim Al Khalifa added.
"I think Mr Blatter has done far more for the development of the game than most people would admit. No doubt he made mistakes but it is wrong to completely denigrate him," Al Halifa told R-Sport in an interview.
He called to wait for results of Blatter's various appeals before running ahead with verdicts about his personality.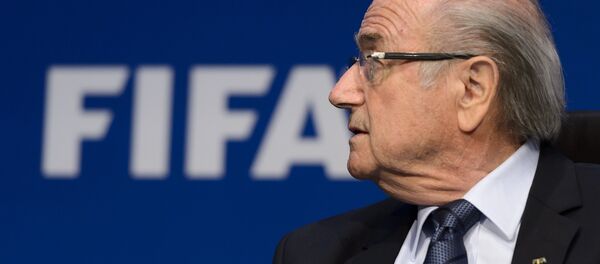 29 December 2015, 13:47 GMT
"I know it is popular to bash him today but I also know that in many parts of the world people think very differently about him," Al Halifa said.
In May 2015, Joseph Blatter won a fifth consecutive FIFA presidential election but four days later resigned following corruption charges against high-ranking FIFA officials. Blatter agreed to continue to carry out the functions of the office until a new president is elected.
In late September, the Swiss Office of the Attorney General launched a probe into corruption claims against FIFA President Joseph Blatter over making a "disloyal payment" of $2.05 million to UEFA President Michel Platini in 2011 at the expense of FIFA, for work allegedly performed in 1999-2002.
On December 21, FIFA's Court of Arbitration for Sport (CAS) banned Blatter and Platini from sport for eight years. Both have appealed the decision.
FIFA is due to elect a new president on February 26, 2016.