25 January 2016, 13:05 GMT
According to Europol, the Paris attacks of November 13, 2015 — in which 130 people were killed and hundreds more injured in a series of shootings and suicide bombings — appear to indicate a shift towards a broader strategy of [Daesh] going global, of them specifically attacking France, but also the possibly of attacks against other Member States of the EU in the near future.
Intelligence suggests that Daesh has developed an external action command trained for special forces-style attacks in the international environment. Daesh terrorist cells currently operating in the EU are largely "domestic and/or locally based," according to the assessment.
Chillingly, the report says that Daesh may use the European refugee crisis to their advantage.
"…there is no concrete evidence that terrorist travelers systematically use the flow of refugees to enter Europe unnoticed. A real and imminent danger, however, is the possibility of elements of the (Sunni Muslim) Syrian refugee diaspora becoming vulnerable to radicalization once in Europe and being specifically targeted by Islamic extremist recruiters," the report says.
"There is every reason to expect that [Daesh] inspired terrorists or another religiously inspired terrorist groups will undertake a terrorist attack somewhere in Europe again, but particularly in France, intended to cause mass casualties amongst the civilian population. This is in addition to the threat of lone actor attacks, which has not diminished."
Europol believes there are training camps in the EU and in Balkan countries where survival techniques are taught by Daesh recruiters to test fitness and determination of aspiring members. Sports activities have been used for combat and interrogation resistance training.
Turning Point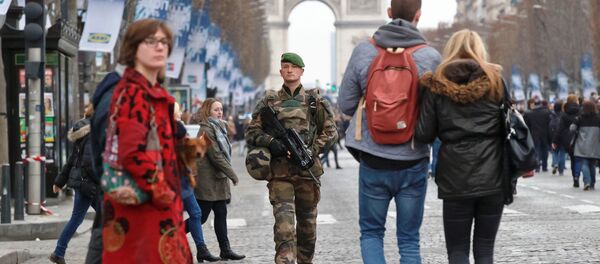 22 January 2016, 15:42 GMT
The Paris attacks marked a significant turning point in the Daesh terror campaign in Europe. The November 2015 attacks took place on carefully chosen targets in Paris that included a football stadium, a theater, two cafes and two restaurants. They were designed to kill and injure as many civilians as possible.
Intelligence sources have told Sputnik that the attacks were important for two reasons: they resembled those in Mumbai of 2008 in terms of modus operandi, targets chosen, numbers of attackers and impact; and there were three groups of attackers, among them those born and raised in France and returned foreign fighters.
"The Mumbai-style method of attacking targets in a European country is a first for IS [Daesh]. In combination with the 31st October 2015 bombing of a Russian airliner in Egypt, also claimed by IS, and other attacks in Suruc and Ankara (Turkey), Beirut and Baghdad, and short of an obvious objective of immediate retaliation — the Paris attacks appear to be part of a broader strategy of IS going global, and specifically attacking France, but possibly more Member States of the EU in the near future," the Europol assessment stated.