In his analysis, published Monday in Pakistani English-language newspaper The Express Tribune, Ahmad recalled that while President Obama was busy gaining Islamabad's ire with remarks suggesting that instability would plague the country 'for decades', "Russian Army Chief General Oleg Salyukov," on the other hand, "approved holding military exercises with Pakistan codenamed Indestructible Brotherhood."
"The first-ever Russian-Pakistani special war games in mountainous terrain are one of seven international exercises planned by the Kremlin for 2016. A Russian military-technical cooperation team has just concluded its visit to Pakistan," the journalist explained.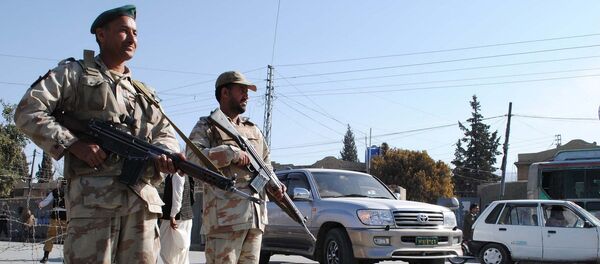 24 December 2015, 19:24 GMT
For now, the area with the best prospects, Ahmad suggests, seems to be military-to-military relations. 
"After overruling Indian objections against the sale of four Mi-24 Hind gunship helicopters to Pakistan last year, Russia will now directly export Klimov RD-93 engines [to the country]. Besides enhancing the capability of the JF-17 Thunder jet [jointly developed by Pakistan and China], the engine's direct import will earn the fighter jet greater confidence from foreign customers."
Furthermore, the journalist noted, "the order for the Russian [Mi-24] gunships is likely to be ratcheted up to 20 helicopters. The next test case for Moscow will be Pakistan's desire to buy Su-35 fighter jets, which it's delivering to China this year."
"For Pakistan," Ahmad suggests, "Russia is an alternate source of sophisticated military weaponry." For its part, he adds, Islamabad "hopes that Russian military transactions won't come with political strings, Putin's ambition for global leadership notwithstanding."
And even though Russia, for many decades, has had a special relationship with India — one which it has no intention of breaking, relations between Moscow and Islamabad have nevertheless been improving, "after a decade of diplomatic efforts."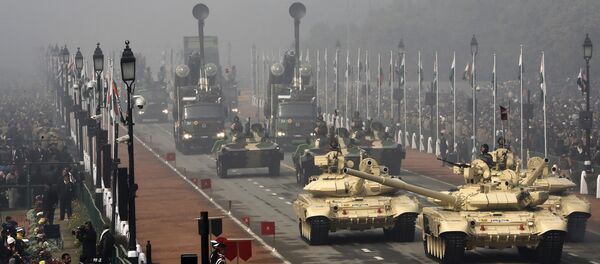 26 January 2016, 17:57 GMT
On the geostrategic level, recalling that "the Kremlin has neither forgotten Afghanistan nor the role Pakistan played in frustrating its ambitions," referring to Islamabad's assistance for jihadists fighting Soviet forces in Afghanistan in the 1980s, the journalist, somewhat oddly, suggests that today, Russia "is pursuing a more Machiavellian approach to Pakistan and Afghanistan."
"For now," Ahmad notes, "Moscow seeks stability in both countries, [and] has lauded the Pakistani effort to curb extremism and end the insurgency in Afghanistan."
That Russia seeks stability in a region bordering the soft underbelly of Central Asia, where Moscow has struggled against Islamist terrorism and drug trafficking since the collapse of the Soviet Union, should come as no surprise to the analyst.
Instead, he argues, "in pursuit of a renewed quest for geopolitical dominance, Russia is bidding to win newer allies and markets." In Pakistan, "besides selling high-tech defense hardware, Moscow is exploiting its advances in the energy sector too. For starters, Russia will be laying a $2-$2.5 billion gas pipeline from Karachi to Lahore. Rostec Corporation will start building the pipeline next year."
​Just as importantly, Ahmad recalls, "Islamabad is also currently working to finalize a free trade agreement with Russia. The success of the China-Pakistan Economic Corridor may lead to a long-envisioned transit trade agreement with Eurasian states. Pakistan has been aiming for an FTA with the Eurasian Economic Union."
At the same time, the journalist suggests, "there is a lesser degree of warmth among members of the Pakistani business community" toward increased business cooperation with Russia. This, he notes, is related to the possible politicization of any economic relations between the two countries, exemplified recently by the downturn in economic relations between Russia and Turkey following Ankara's shoot down of a Russian jet over Syria late last year.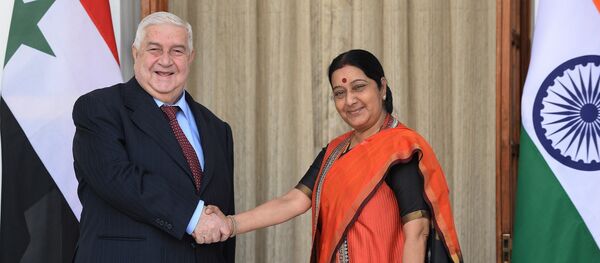 12 January 2016, 13:50 GMT
In any case, Ahmad notes, "Pakistan has so far treaded a fine line in its advances toward Russia," abstaining from commentary on the Crimean referendum which saw the peninsula return to Russia in 2014, and "exercising caution" regarding the Russian military intervention in Syria.
Ultimately, the journalist suggests, "Russia and Pakistan neither share strategic partners (with the exception of China) nor have convergence of foreign policy interests. Due to a lack of business ties and the absence of people-to-people contacts, the military-to-military dealings will be remain an exception."
For its part, Ahmad notes, "learning from past experiences, Islamabad is least likely to choose sides between Moscow and Washington. The Kremlin is in no hurry either." Still, "as Washington gradually disengages itself from Islamabad, Moscow has chosen to cautiously cozy up with Pakistan."