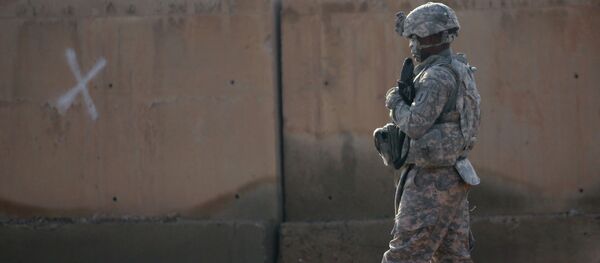 26 January 2016, 00:17 GMT
WASHINGTON (Sputnik) — The new US strategy of returning ground troops to the Middle East to combat the Islamic State terror group, also known as Daesh, will only add to the morass of human suffering caused by previous US interventions in the region, founding president of Physicians for Social Responsibility, the co-winner of the 1985 Nobel Peace Prize, Dr. Helen Caldicott told Sputnik.
"To put 'more boots on the ground' — Pentagon speak for renewed direct military involvement — is despicable and will lead to more deaths, more refugees, more children traumatized for life and more terrorism for sure," Caldicott told Sputnik on Monday.
On Friday, Secretary of Defense Ashton Carter announced that elements of the US Army's 101st Airborne Division would be redeployed in Iraq to support the fight by the regular Iraqi army to recapture Mosul and destroy the core base of Daesh.
Caldicott pointed out the allegedly new strategy falls in the now-established pattern of US ground combat operations and supporting airstrikes in countries across the Middle East, which had created widespread conditions of utter cruelty and desperation.
"The morass of human suffering imposed upon the Middle East by the intervention of the United States is almost indescribable," she said.
Caldicott argued that repeated US interventions in the region over the past quarter century also repeatedly exacerbated old conflicts and stirred up new ones where they had not previously existed, and the new strategy will not bring different results.
"Ancient animosities have been rekindled where once there was relative peace and harmony amongst people of different tribes and religions," she said.
Helen Caldicott is an Australian physician and has been one of the world's leading anti-nuclear activists for more than 40 years. She is author of many books, including "The New Nuclear Danger: George W. Bush's Military Industrial Complex." The Smithsonian Institution has named Caldicott one of the most influential women of the 20th century.