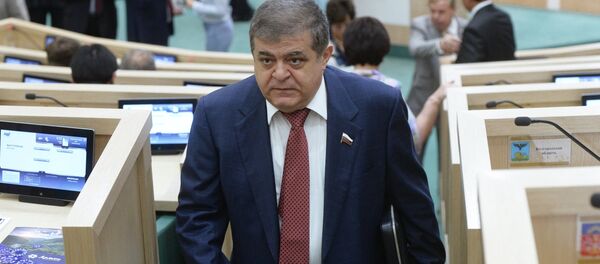 25 January 2016, 09:32 GMT
MOSCOW (Sputnik)
–
The West's extending sanctions against Russia only eggs Kiev on not to fulfill its obligations in the Minsk agreements, Russian Foreign Minister Sergei Lavrov said Tuesday.
"The West's extending sanctions is understood by Kiev as the West's agreement that Kiev is fulfilling the Minsk agreements," Lavrov said during his annual press conference in Moscow.
"Why should [Kiev] fulfill these agreements when the West agrees that Kiev doesn't have to fulfill them?" Lavrov queried.
The Minsk agreements, signed by the conflicting sides to the conflict in eastern Ukraine, stipulate a ceasefire, prisoner swaps, weaponry withdrawal and constitutional reforms, among other points.
On Monday, Kremlin spokesman Dmitry Peskov said that Kiev's non-compliance with the Minsk agreements should be discussed, when asked about the practice of linking the lifting of the anti-Russia sanctions to the implementation of the accords on Ukrainian reconciliation.
The United States, the European Union and their allies imposed and extended a series of economic measures, starting in 2014, against Russia's banking, defense and energy sectors. The West accuses Moscow of interfering in Ukraine's internal affairs, accusations Russia has consistently rejected.