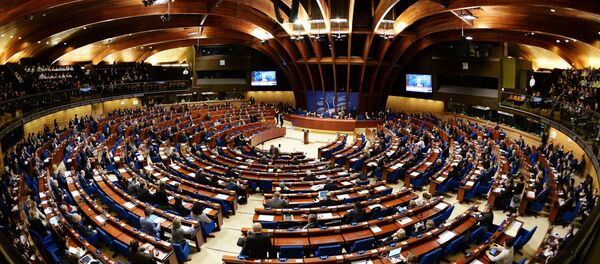 27 January 2016, 12:24 GMT
STRASBOURG (Sputnik), Daria Chernyshova – On Tuesday, PACE adopted a resolution named "Introduction of sanctions against parliamentarians." The document criticizes the practice of states imposing sanctions against other countries' lawmakers. It also calls for a legal framework to be established that would provide national parliamentarians with "adequate safeguards" to perform their duties abroad. Ukrainian lawmaker George Logvinsky later said that the resolution introduced responsibility for lawmakers visiting Crimea and Donbass.
"I can't see where they see the victory. In fact this resolution is good news for those who are under sanctions, and after the paragraph 11 [of the resolution], my friends [speaker of the lower house of Russian parliament Sergei] Naryshkin and [deputy head of the Russian PACE delegation Leonid] Slutsky can have the right to be [defended] and say it is not possible to apply the sanctions immediately," Mariani said.
Naryshkin and Slutsky have been included in the EU sanctions list for allegedly undermining the territorial integrity of Ukraine, rendering them unable to travel to the European Union.
Article 11 of the resolution says that the assembly calls on "member States which have adopted or may adopt restrictive measures to…notify foreign parliamentarians who are subject to bans or restrictive measures of their existence and the reasons for them."
Starting in 2014, Washington, Brussels and their allies have imposed a series of economic sanctions targeting Moscow's energy, banking and defense sectors as well as a number of individuals and entities. The West blames Russia for the alleged fuelling of the conflict in southeastern Ukraine and "annexing" Crimea, accusations that Moscow rejects.