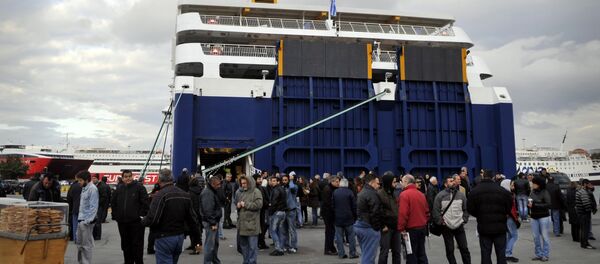 27 January 2016, 09:50 GMT
PARIS (Sputnik)
–
About 2,000 taxis either blocked or delayed traffic across Paris on Tuesday. Some of the taxi drivers clashed with police, setting fire to tires and blocking the highway.
On Wednesday morning, taxi drivers once again blocked the routes to Paris' main airports of Charles de Gaulle, also known as Roissy, and Orly, the portal FranceTV Info reported, citing the municipal police service. The traffic flow in several areas of Paris, in particular near the French Finance Ministry's building, is partially restricted, the news outlet added.
Both Uber and VTC operate by putting customers and private drivers directly in contact, thereby often offering lower prices than regular taxis. Licensed drivers are calling for the VTC service to be banned or for a special compensation system to be worked out. They intend to continue protesting until their demands are fully met.
The Uber taxi service has seen an increase in popularity among customers in Europe, while simultaneously facing an increase in restrictions on its operations within the European Union, due to pressure from the taxi service lobby.