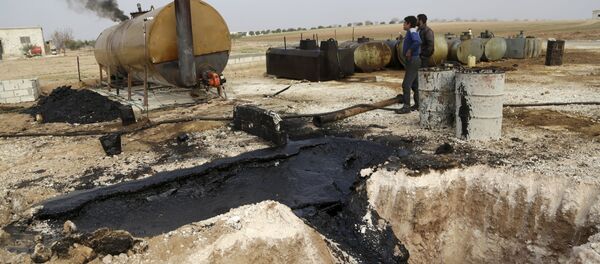 26 January 2016, 16:10 GMT
WASHINGTON (Sputnik) — The United States disagrees with the accusations by Greece and Israel of Turkey's involvement in the Islamic State (ISIL or Daesh) oil smuggling, US State Department deputy spokesperson Mark Toner told reporters on Wednesday.
On Tuesday, Israeli Defense Minister Moshe Ya'alon accused Turkey of sponsoring terrorism by buying oil from Daesh terrorist group, while Greek Defense Minister Panos Kammenos said that Turkey was a major conduit for terrorist oil and money flows to and from Syria hampering international efforts to fight effectively the ISIL threat.
"We disagree with that assessment," Toner said in a press briefing. "We have not seen any inclinations of that, any kind of sign of that."
The spokesperson explained that Washington believes that such involvement would not make any economic sense. Cook added that there was no evidence to the allegations that " high-level Turkish government" was involvement in Daesh oil smuggling.
Daesh controls large swathes of land in oil-rich Syria, Iraq and Libya. In December, the Russian Defense Ministry presented evidence showing that the jihadist group has been smuggling oil across the porous Syria-Turkey border in large volumes.
According to Russian envoy to the United Nations Vitaly Churkin, Daesh illicit exports of oil, primary via Turkey, allows it to gain approximately $1.5 million a day. Turkish President Recep Tayyip Erdogan has repeatedly denied profiting from Daesh oil trafficking.