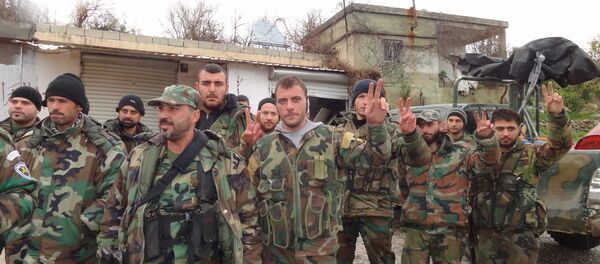 27 January 2016, 05:54 GMT
GENEVA (Sputnik), Svetlana Alexandrova — On January 15, the Russian military announced the start of a humanitarian operation in Syria to help people trapped in Islamist-besieged towns, primary to the government-held city of Deir ez-Zor in the northeast. The supplies have been airlifted by the Syrian Air Force.
"We welcome whatever support can be given to the population but it has to be given to all besieged areas," Hanna Singer said.
She added that UNICEF continue to call on all parties to the conflict to allow the UN humanitarian agency access to the besieged areas in Syria.
Syria has been in a state of civil war since 2011, with government forces fighting several opposition factions and extremist groups, including Islamic State, outlawed in Russia.
As many as 400,000 Syrian civilians have been trapped in the besieged cities of Deir ez-Zor, Madaya, Foah and Kafraya for months, and they are suffering from severe malnutrition, according to the United Nations data.