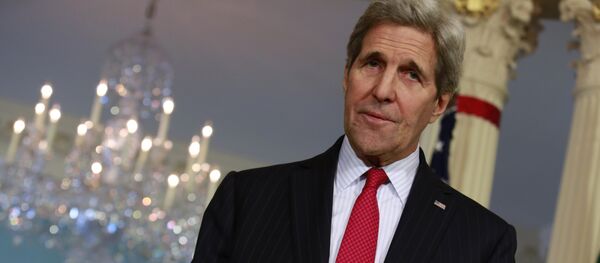 27 January 2016, 06:41 GMT
BEIJING, January 27 (Sputnik) — Earlier in the day, Kerry labeled North Korea's nuclear program "a major challenge to global security," calling on China to jointly "find a way to move forward" on the issue.
"North Korea conducted a nuclear test in violation of the UN Security Council resolutions and we, of course, have discussed it… We urge the UN Security Council to adopt a new resolution in response to North Korea's actions. However, we think that the new resolution should not make the situation tense on the Korean Peninsula," Wang said following talks with US Secretary of State John Kerry.
On January 6, Pyongyang claimed it had carried out its first hydrogen bomb test, which triggered condemnation from the international community that denounced the test as provocative and undermining stability in the region.
North Korea declared itself a nuclear power in 2005 and subsequently conducted nuclear tests in 2006, 2009 and 2013, having earlier withdrawn from the Nuclear Non-Proliferation Treaty that it ratified in 1985.
The United States, Russia China, Japan and South Korea took part in talks on the denuclearization of the Korean Peninsula with North Korea from 2003 to 2009, before Pyongyang withdrew from the talks.