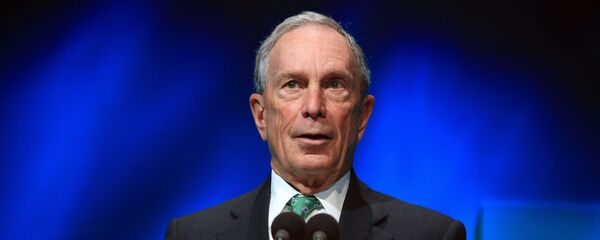 26 January 2016, 00:20 GMT
WASHINGTON (Sputnik) — Bloomberg is "just a handful of points behind the frontrunners from both political parties," according to the poll, which referred to the Republican and Democratic parties.
"The key takeaway? There's more than a political lane available to the former mayor; it's an interstate highway," a press release accompanying the poll stated on Thursday.
According to the poll, conducted on January 26-27, Bloomberg scored 29 percent in a hypothetical race between Hillary Clinton, Donald Trump, just a few percentage points behind Donald Trump who polls at 37 percent of likely voter support and Hillary Clinton with 33 percent.
With Ted Cruz as the Republican nominee, Clinton takes the lead with 37 percent, Cruz at 35 percent and Bloomberg at 28 percent.
"The numbers are clear and compelling: there is definitely room for a second billionaire in this election," the release pointed out.
According to multiple US press reports, Bloomberg has told his aides to draw up plans for an independent campaign for the US presidency.