MOSCOW (Sputnik) – Russian export to Finland in the first 11 months of last year amounted to $6.6 billion, while the import decreased by 45 percent, going down to $2.4 billion.
Trade and economic cooperation between Russia and Finland is currently on the decline, the government source said.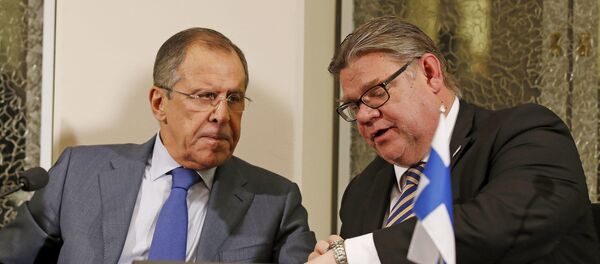 27 January 2016, 19:19 GMT
Earlier this month, Finnish Finance Minister Alexander Stubb told Sputnik that Finland is experiencing an economic downturn, which is partly related to the sanctions it had imposed on Russia.
Stubb stressed that the economies of the two countries are closely linked, so when there is a decline in the Russian economy, Finland suffers as well.
In 2014, Finland imposed economic sanctions on Russia as part of the common EU response to what the West views as Moscow's involvement in the internal Ukrainian crisis.
Moscow has repeatedly stressed that it is not involved in the situation in Ukraine, warning that sanctions are a counterproductive measure that hurts not only the target country, but those using it as well.