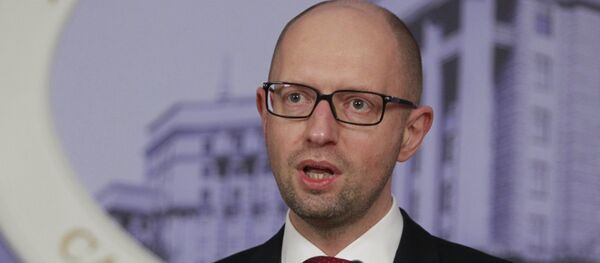 20 January 2016, 10:53 GMT
KIEV (Sputnik) – The leaders of the parliamentary coalition in Ukraine have agreed to reformat the Cabinet, Maksym Burbak, leader of People's Front faction in Ukraine's Parliament (Verkhovna Rada) said.
"We will start filling the posts that have long been vacant, people have already submitted applications [for being dismissed]. At a meeting of faction leaders we discussed that there should be a presentation and open public discussion of all candidates for the vacant posts, and for where ministers are obviously weak," Burkbak told reporters after a meeting with Ukrainian President Petro Poroshenko.
In December, Ukraine's Parliament Speaker Volodymyr Groysman said that after the adoption of the 2016 state budget, it was high time to raise the question about reformatting the Cabinet.
The current Ukrainian Cabinet of Ministers has been working for over a year.
Some of the country's lawmakers have expressed dissatisfaction with the government's work and insisted on the resignation of Prime Minister Arseniy Yatsenyuk and some other ministers. However, the Ukrainian authorities said earlier in December that the prime minister's resignation was not on the agenda.
Yatsenyuk is the founder and president of the People's Front Party. The party won 82 seats in the 2014 Ukrainian parliamentary election.