Kristian Rouz – While concerns over cheap oil and insufficient global growth persist, government debt securities have posted gains in value in January, effectively driving yields lower, even though in select advanced economies the liquidity of bonds has dropped, potentially curbing market demand in medium-to-long term.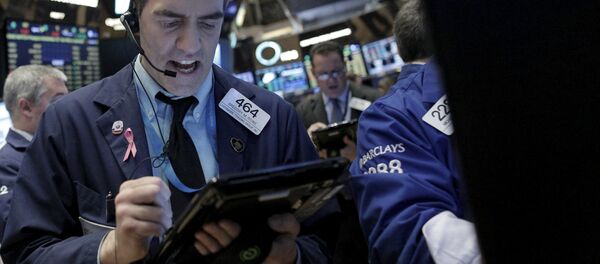 27 January 2016, 11:34 GMT
US Treasuries posted third consecutive years of gains, with the benchmark 10-year yield having dropped below the psychological threshold of 2%, to 1.8%, as abundance of investment capital seeking safe havens overshadowed concern over the overall turbulent financial market.
In the Eurozone, the still insufficient inflation, at 0.4% in January, is stirring hopes for further stimulus by the European Central Bank (ECB), yet, for now, benchmark 10-year Deutsche Bunds are an asset more preferable than any stock or high yield. Meanwhile, Japan, having introduced negative base interest rates, meaning the government would pay banks to borrow liquidity, is naturally facing a greater demand for bonds from the said banks.
Although the ultra-loose monetary policies persist throughout most advanced economies, stimulus measures have hardly half of the effect they used to in the post-2009 environment, meaning the structural issues plaguing advanced economies have become generally resistant to the non-traditional monetary medication.
According to Bloomberg's US Treasury Bond Index, US governmental bonds returned 1.8% to investors in January, compared to 3% a year earlier, and 1.8% in January 2014.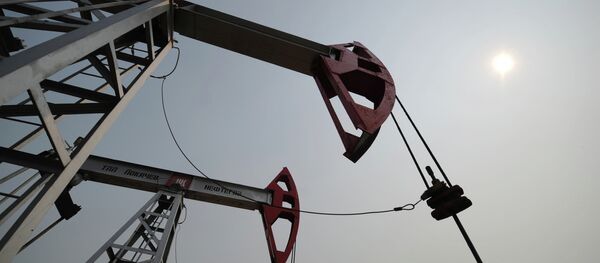 19 January 2016, 04:40 GMT
January is traditionally the best month in terms of US Treasuries' performance, as returns might turn negative throughout the rest of the year, yet, there is little optimism in regard to the overall economy, evidenced by the Treasuries having rallied throughout past decade. Investors are more concerned about preserving their assets rather than seeking higher returns, particularly after the massive Third Avenue crash in high yield in December.
The US economy is expected to have slowed down to an annualized 0.8% in Q4, bucking the trend of lower yield and more expensive Treasuries.
Meanwhile, Bank of Japan's (BoJ) decision to lower base interest rates into the negative territory, provided a greater impulse to the bonds rally. The 10-year yield on Tokyo's debt securities dropped to 0.09%, rebounding to 0.115% later on, still way below its January 14 bottom of 0.19% as borrowing costs turned —0.1% by the BoJ decision.
Shorter-term Japanese yields are already in the negative, —0.085 for 2-year bonds and —0.08% for 5-year bonds, meaning the government in Tokyo would pay its creditors to finance their operation.
"It's a surprise and reinforces (Haruhiko) Kuroda's (BoJ Governor) credentials as to his ability to shock the market," Matthew Cairns, of the London-based Rabobank International. "It's a fairly aggressive move and signals that it's a race to the bottom with the central banks effectively trying to out cut each other in an attempt to stimulate their own domestic inflation. It's a one-way street for yields."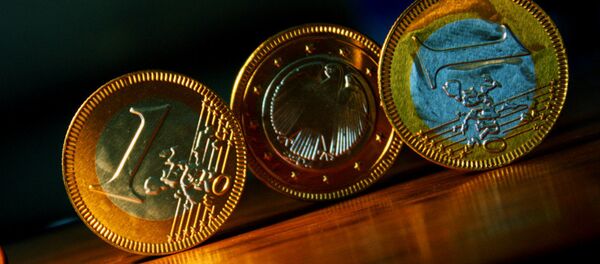 22 January 2016, 11:34 GMT
Subsequently, German 5-year yield dropped 0.04% to —0.295%. In the Eurozone, negative interest rates became a reality in autumn 2015, indicating the ECB's aggressive stance on stimulating the economy. Even though the euro-area inflation accelerated to 0.4% in January from the last month's 0.2%, market participants are still expecting an expansion in the ECB stimulus.
Benchmark 10-year Deutsche Bund also gained in value, albeit a weaker demand during an auction earlier this month, with yield having dropped to 0.33%, the lowest since April, when the common currency area was in the middle of the crisis over Greece's possible default.
Even though a lower yield usually indicates a greater economic stability, financial markets see the current situation as merely a run for safety due to the high levels of uncertainty over the growth outlook and central bank measures addressing potential challenges. Should market participants believe the central banks are pursuing the right policies, yields might increase as investors will sell bonds, putting their money into higher-returning assets.
However, if inflation in advanced economies fails to pick up, the already shaken market confidence in central banks' efficiency will erode further.