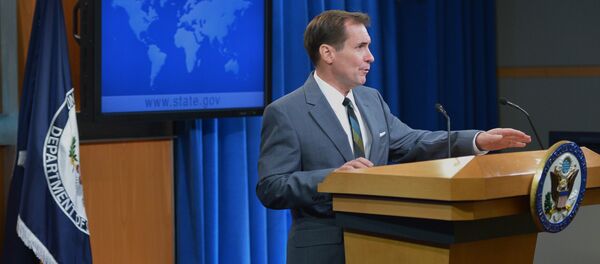 29 January 2016, 20:45 GMT
WASHINGTON (Sputnik) — The United States expects the Syrian opposition and the country's government to take part in the Geneva peace talks in good faith and reach progress soon, US State Secretary John Kerry said in a statement.
"The United States further expects that both sides in these negotiations will participate in good faith and achieve early, measurable progress in the days ahead," Kerry stated on Friday.
Earlier in the day, the United Nations announced that the intra-Syrian talks had started with a meeting between UN Special Envoy Staffan de Mistura and the Syrian government delegation headed by the country's ambassador to the UN, Bashar Jaafari.
De Mistura said Friday that he expected his talks with the delegation of the Syrian opposition formed during the Riyadh conference to start as early as on January 31.
In December, the UN Security Council adopted a resolution on settling the Syrian conflict, which reaffirmed the goals of the Vienna agreements to bring the entire spectrum of political groups in the crisis-torn country to the negotiating table and stated that the next round of the talks would take place in January, 2016.