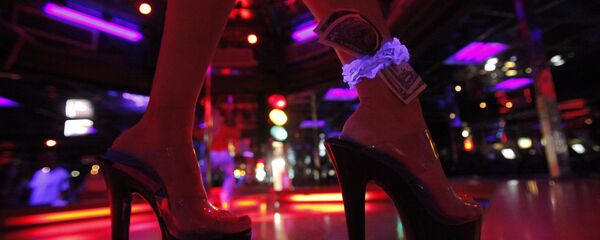 23 October 2015, 22:34 GMT
WASHINGTON (Sputnik) — A US Navy Lieutenant Commander was sentenced to 40 months in prison for accepting cash, hotel expenses and the services of a prostitute in exchange for classified ship and submarine schedules, the US Department of Justice said in a press release.
"Todd Dale Malaki, 44, pleaded guilty to one count of conspiracy to commit bribery and admitted that in 2006, while he was working as a supply officer for the US Navy's Seventh Fleet, he began a corrupt relationship with… a company that provided port services to US Navy ships and submarines throughout the Pacific," the release stated on Friday.
In addition to his prison sentence, US District Judge Janis Sammartino of the Southern District of California ordered Malaki to pay a $15,000 fine and $15,000 in restitution to the Navy, according to the release.
Malaki admitted that the total value of the benefits he received from a foreign defense contractor, Glenn Defense Marine Asia (GDMA), was approximately $15,000, the Justice Department said.
In addition to selling schedules, Malaki also provided proprietary invoicing information about GDMA's competitors in exchange for luxury hotel stays in Singapore, Hong Kong and the island of Tonga, as well as envelopes of cash, entertainment expenses and the services of a prostitute, the release noted.