On Thursday, Turkish jets violated the Greek airspace while Greek military commanders were laying flowers at the Imia islets where Greek servicemen were killed during the conflict 20 years ago, Minister of National Defense Panos Kammenos said.
In early-1996, a territorial dispute over the two small Imia islets of The Dodecanese archipelago in the Aegean Sea triggered a crisis in Greek-Turkish relations. Two countries, both NATO members, were at the brink of war for a few days. The conflict was settled with the help of foreign mediation, including NATO and the US.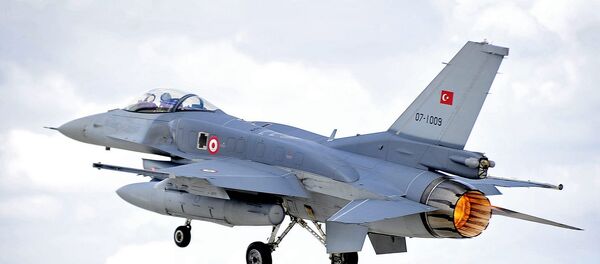 8 January 2016, 10:48 GMT
During the last days of the crisis, a Greece naval helicopter crashed in the crisis zone, killing three officers. Technical failures were named the reason of the crash. Since then, Greece has honored annually the memory of the killed officers.
On Thursday, Kammenos laid flowers in the sea, in the area where the helicopter crashed. After the ceremony, he said that no one will ever challenge Greece's sovereign rights in the Aegean Sea.
"Some try to challenge our sovereignty in the Aegean Sea. And I want to say here, at a place of national commemoration, that they will not succeed," the minister was quoted by RIA Novosti.
"Even today, when we were laying flowers to commemorate our heroes, 26,000 feet [8 km] south of Imia, Turkish jets violated our airspace and were intercepted by the Greek Air Force," he added.
According to him, everyone wants dialogue and peace, but talks must not place in doubt national priorities and political responsibility to protect the homeland.