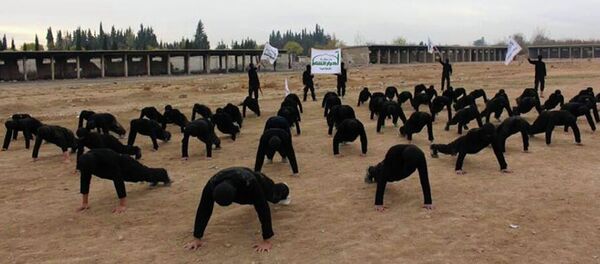 20 August 2015, 23:21 GMT
GENEVA (Sputnik) — Syrian opposition group Ahrar ash-Sham did not arrive in Geneva, the venue of intra-Syrian talks, as part of the High Negotiations Committee (HNC) because it does not want to participate in the negotiating process, the delegation's spokesman Riyadh Agah said Saturday.
"No, their representative did not arrive with the delegation on their own initiative," Agah said.
Another opposition group, Jaysh al-Islam (Army of Islam) is represented at the talks by Mohammed Alloush, who is the HNC chief negotiator. But he has not arrived in Geneva yet and, as Agah said, the decision on the arrival is "in his hands."
The HNC delegation landed in the Swiss city earlier in the day for UN-mediated peace talks with government representatives. The ultimate goal is to end an almost five-year-long war in Syria and launch a transition period that will end in elections.
The Syrian talks began on Friday with a meeting between UN envoy to Syria Staffan de Mistura and the delegation of the Syrian government. On Sunday, de Mistura is expected to meet with the Saudi-backed HNC delegation, headed by Assad Zaouri.