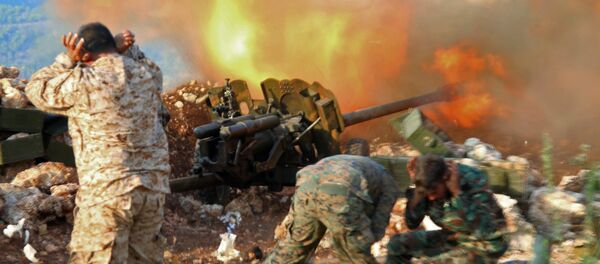 29 January 2016, 06:35 GMT
The Syrian Army
took control of most of the Jabal Al-Turkmen mountainous region leaving hundreds of militants killed and wounded. The government forces inflicted heavy losses on the terrorists in other provinces too.
Al-Qaeda's Nusra Front and the Free Syrian Army lost scores of their fighters during the fierce clashes in northern Latakia, retreating over a vast region to avoid more casualties, the agency reported.
In Deir ez-Zor province the Army, backed by Russian and Syrian airstrikes, repelled a coordinated attack by militants and beat back similar attacks on a local university and hotel.
Meanwhile, the central province of Hama was the scene of heavy clashes between the militants and the government forces on Thursday, leaving at least 11 terrorists dead and their headquarters and weapons destroyed.
In the northern countryside of Hama, a field source said that the army units had destroyed the terrorists' positions in Morek and near al-Sayyad town.
In the northwestern Aleppo province Syrian troops and popular defense forces managed to win back control over the town of Bluzah inflicting heavy losses on the terrorists and destroying a number of machinegun-trucks loaded with mortar shells.