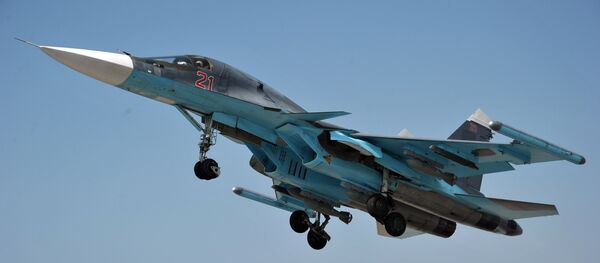 30 January 2016, 18:40 GMT
MOSCOW (Sputnik) — The Turkish Foreign Ministry said Saturday it had summoned the Russian ambassador over an alleged trespass involving a Su-34 frontline bomber that happened the day before.
"All such claims look to me like a failed attempt to justify the traitorous shooting of a Russian plane by Turkey," Franz Klintsevich, deputy chair of the Defense Committee at the upper-house Federation Council in the Russian parliament, told RIA Novosti.
The November 24 downing of a Russian frontline bomber by a Turkish air-to-air missile near the Syrian border strained relations between Moscow and Ankara and prompted Russia to hit out at Turkey with a batch of economic restrictive measures.
Leonid Kalashnikov, deputy chair of the Foreign Affairs Committee at the lower house of the Russian parliament, the State Duma, told RIA Novosti that Turkish President Recep Tayyip Erdogan might be looking for an excuse to talk to his Russian counterpart, Vladimir Putin.
"Apparently, Erdogan is seeking to meet Putin – so he is using every opportunity," Kalashnikov suggested.
The Russian Defense Ministry on Saturday denied violations of Turkish airspace by Russian planes, saying neither Russian air defense systems in Syria nor Syrian radar stations had detected any trespasses of the Turkey-Syria border.