The possibility of a June referendum on the UK's membership in the EU appears to be back on track after Downing Street officials claimed to have secured a deal on a four-year "emergency break" that would allow Britain to place a halt on paying in-work benefits to new EU arrivals, should the British public vote to remain in the EU.
"On welfare, the [European] Commission has tabled a text making clear that the UK's current circumstances meet the criteria for triggering the emergency brake," a spokesperson for the prime minister said.
"This is a significant breakthrough, meaning the Prime Minister can deliver on his commitment to restrict in-work benefits to EU migrants for four years."
The announcement comes as talks between David Cameron and European Commission chief Donald Tusk continue on Monday.
While Tusk took to Twitter on Sunday night to claim that no deal had yet been agreed upon, officials in London have claimed that an agreement has been reached, which will increase chances of a formal deal being signed between all 28 member states during the EU summit later this month.
'Bad Joke': Euroskeptics Unhappy Over Demands
Despite Downing Street's claims of a major breakthrough and victory in securing an emergency break on in-work EU migrants work benefits, many Euroskeptics have attacked the government, arguing that the proposed changes don't go far enough to justify the UK remaining in the EU.
Senior Euroskeptics have labeled the emergency break proposals as a "bad joke" and "an insult to Britain" with many unhappy with the manner in which Cameron has compromised on his original demands.
The emergency break deal is a serious step-down for Cameron, who initially called for the introduction of a cap on the number of foreign EU citizens allowed into the UK.
After facing unanimous opposition from fellow EU member states, Cameron then called for a ban on welfare payments to EU migrants during their first four years in the UK.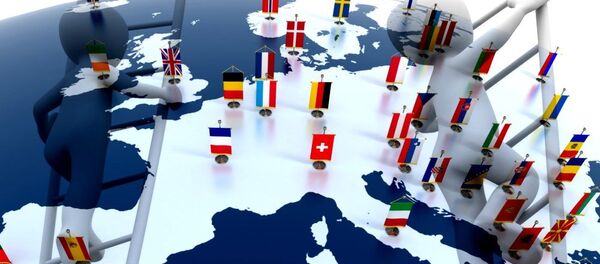 25 January 2016, 15:13 GMT
Once gain these demands were knocked back by European leaders, concerned that their citizens would be unfairly discriminated against.
Critics however, see the emergency break deal as a last chance for Cameron to save face, with officials in London claiming that the country's welfare system is under such strain that it needs to halt paying benefits for new EU arrivals until a wider EU treaty change is made.
Despite the reported compromise, Liz Bilney, CEO of the Brexit campaign group Leave.EU, said the emergency break reforms did not go far enough.
"The public don't want an emergency brake on migrant benefits, they want control of the steering wheel so that we, the British people, can choose the destination, speed and cost of our journey."
'Embarrassing, Blatantly Staged Row'
While the UK government has been heavily criticized at home for changing its stance on EU demands, others have attacked the manner in which negotiations have been handled, with the prime minister accused of fabricating a series of rows with Brussels to portray the image that it has fought for a good deal.
"The Prime Minister's so-called renegotiations are a fudge, designed to appear as if he has fought the EU and won. Even his own MP's are saying demands are weak. The truth is the EU cannot be reformed," Ms Bilney said.
"This embarrassing spectacle is for publicity purposes only; a blatantly staged row."
"We're confident that most people will see right through his deceit and vote to leave."