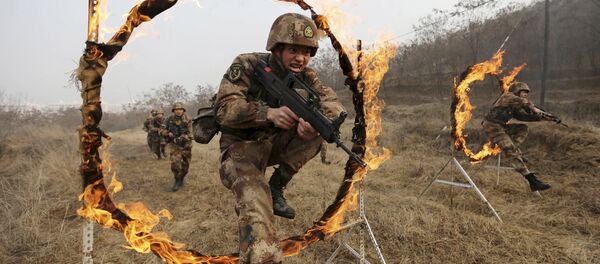 1 February 2016, 12:52 GMT
China has slammed the second US Navy foray in the South China Sea in recent months, as well as US media coverage over the issue, in an op-ed published in
China People's Daily on Monday
.
On January 30 the USS Curtis Wilbur, a guided missile destroyer sailed within 12 nautical miles (22.2 km) of Triton Island, one of the Paracel Islands; China (which calls them the Xisha Islands), Taiwan and Vietnam (Hoang Sa Islands) each claim the contested archipelago as their territory.
The US Navy carried out a similar naval maneuver on October 27, when the destroyer USS Lassen sailed within 12 nautical miles of China's artificial islands in the Spratly archipelago, which China claims is located completely within its economic exclusion zone. Taiwan, the Philippines, Malaysia and Vietnam also lay claim to some or all of the islands in the archipelago.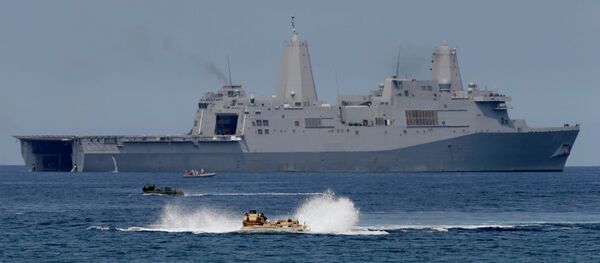 31 January 2016, 18:45 GMT
On Monday Su Xiaohui of the China Institute of International Studies condemned what the US calls 'Freedom of Navigation' operations in the region. The US asserts that it has the right of navigation and flight there.
Xiaohui listed a string of grievances, beginning with the "widespread propaganda," which "paved the way for the incursion."
"For months, the US media have been hyping up the South China Sea issue. During his recent visit to Asia, the US Secretary of State instigated ASEAN countries to unite against China on the issue."
Xiaohui called the maneuver a "provocation" that was "deliberately timed." She sought to contrast the "aggressive manner of the US" with the restrained reaction of Chinese troops and navy vessels stationed on the islands, who responded with a vocal warning to the US Navy's presence.
"China had its reasons for adopting a low-profile reaction, because China is perfectly clear that Uncle Sam's most recent military action is most likely a bluff. The US military only stated that the vessel 'entered' relevant waters without providing further details, leaving room for the audience to imagine the 'magnificence' of the US military, which in fact was a hasty passing through."
"The US should bear in mind that China has never been afraid of 'paper tigers.' Courtesy calls for reciprocity. The US should be a friend, not a rival of China."