According to research from think-tank France Strategie, restoring border controls, introducing passport checks at railway stations – which has already started to happen – will lead to a ten percent drop in trade, reduced car journeys and have a severely adverse effect on trade and tourism. 
The European refugee crisis has shaken Schengen to the ground. The original concept was to create a borderless Europe to help promoted the freedom of movement of people, goods and services – central to the core purpose of the European Union. 
However, the refugee crisis – caused by war and civil unrest in Syria, Iraq, Libya, Afghanistan and many African countries – has exposed a deep flaw in the Schengen system: although borderless travel within the zone was considered an obvious bonus, the mass diaspora of people has laid bare the huge lack of security of the cone's outer border. 
Countries such as Greece and Italy were simply unable to stop the mass influx of migrants who have travelled by sea and land over the past years. The situation worsened when German Chancellor Angela Merkel declared her country's doors 'open' to refugees, causing wave upon wave of migrants to make their way through Turkey and into Europe. 
As a result, Greece, Bulgaria, Macedonia, Hungary, Slovenia, Austria, Norway, Finland, Germany, Sweden and Denmark all introduced some sort of border controls, including wire fences, suspension of rail services, road blocks or passport checks. 
Trade and Tourism Hit 
The effect has thrown Schengen into chaos, with European Union Justice and home affairs ministers in January warning that the agreement on a borderless union may have to be suspended for two years unless it can get a grip on the refugee crisis.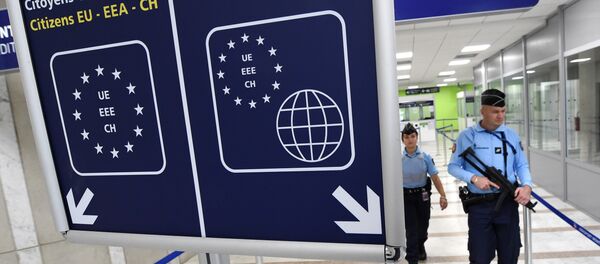 21 January 2016, 13:01 GMT
There are fears that the whole Schengen borderless Europe idea fill fail completely unless the EU reaches agreement on relocation, security and a common immigration policy – none of which are on the cards right now.
France Strategie says the effect of border controls brought about by a suspension of Schengen would have a devastating impact on cross-border trade. It would stifle tourism, slow transport and hit trade.
"Over the long term, the generalization of permanent border controls would be equivalent to a 3 percent tax on trade between countries in the Schengen area, which would lead to a structural decline in trade of 10 to 20 percent," the report states.